3 PICTURES TO THE RIGHT...In October, a new friend donated his BMW K1600GTL for prototype design work and Mike has been testing them since. He ("Miren") posted his
evaluation on the BMW K1600 Forum
so you'll be able to read his candid review. Here's some pictures of the prototype.
As shown in the third picture, they will attach to BMW's accessory engine guards.
Since there are mixed feelings in regards to Mike's review above, in regards to aesthetics vs. functionality, we are hoping to have our first production run available for purchase in February 2012. Model RC will be offered in hardcoat anodized Silver, with a choice of matching silver or contrasting black pegs.

For the first 1 or 2 customers that experience damage to their Mick-O-Pegs (i.e. bike drop), we will offer free replacement parts, in exchange for details & pics re: your incident, so that we can gain real-world R & D. This helps to substantially keep our R & D costs down, so we can pass the savings on to our customers.

One of our concerns has always been providing a product that doesn't cause additional damage in an accident. With this model, the lower corner of the 'cover' will make contact with the pavement first. By design, the mounting 'block' is intened to rotate up slightly to absorb some of the initial shock when dropped hard - thus reducing the likelihood of bending the engine guard. When the block is laying flat on the ground, the engine guard will need to perform it's intended purpose of guarding the engine from damage. Since the block would twist until almost flat on the pavement, the Mick-O-Peg should not cause additional torque to the engine guard.
1 PICTURE BELOW... During Americade 2010, we had two R1200GSA owners purchase
Model CC
Mick-O-Pegs (designed for the Honda Valkyrie) and mounted them on their GSA. This is a pic of the leg position for a 6' tall rider. In Jan 2011, we received our first production run of Model CC-An (for the R1200GSA) and will post pics if customers will stop riding long enough to send us some good ones.

In Jan 2011 we began working on a prototype for the BMW R1200G which was too ugly to photograph. Stay tuned for updates as we make progress to making you comfortable.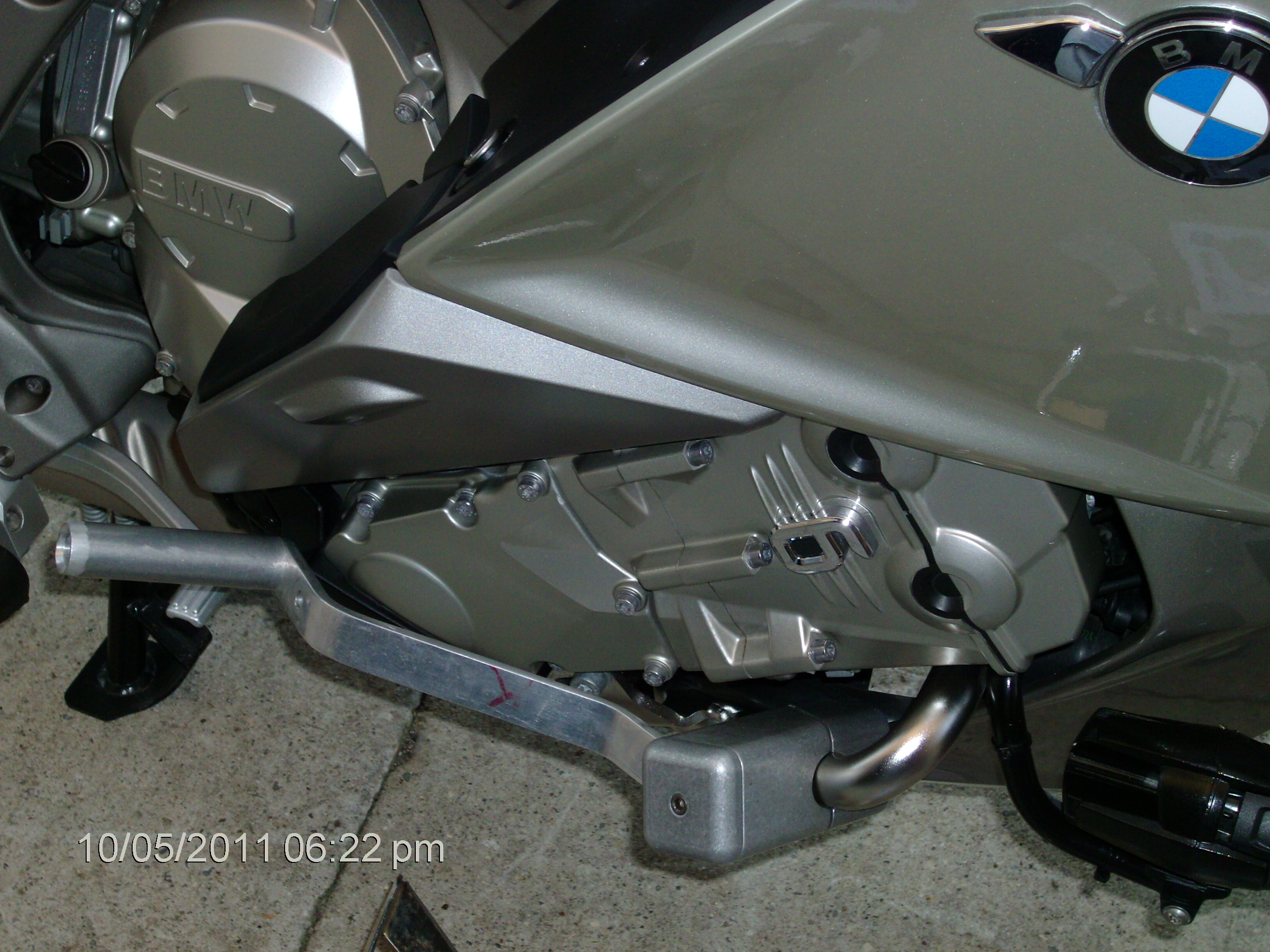 Here is a
Model GF
(designed for the GL1800) that works on the earlier BMW K bikes. (click on pic to enlarge)